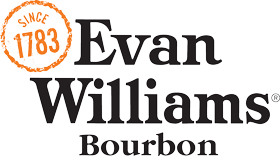 In 1783, our namesake opened Kentucky's First Distillery on the banks of the Ohio River. Many years and barrels later, they still produce Bourbon the right way, using the same time-honoured methods. Evan Williams Single Barrel Bourbon is handcrafted and specially selected by the head distillers. A five-time winner of "Whiskey of the Year," it's their most premium and decorated Bourbon - one that measures up to exacting standards.
Nose: Dark caramel, sweet oak, and charred wood
Palate: Lush and spicy. Oak with honey, apple, and orange notes
Finish: Long, graceful, and relaxed
**N.B.**   Evan Williams Single Barrel is scheduled to become a 'Kentucky Only' product - so once the current stock runs out ... it's gone for good.
750ML
43.3%ABV
While Quantities Last
Price Includes All Taxes
Shipping Calculated At Checkout
Both Purchaser And Receiver Must Be Of Legal Drinking Age