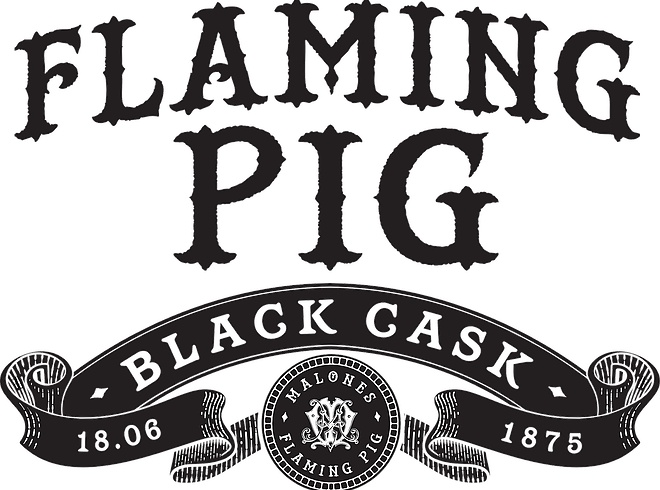 Flaming Pig is the brainchild of Joey and Flor, two drinks industry fellas from Ireland who saw a gap in the market for an uncomplicated Irish whiskey that delivered more taste and character than the run-of-the-mill brands.
Flaming Pig is a blend of Irish single malt and grain whiskies, made richer and spicier, with added smokiness, from intense barrel charring. Nice. 
While we respect heritage and tradition, we're not too precious about all that (we've only been around for five years after all). The way we see it, good whiskey is meant to be enjoyed, not talked about.
 So if you're really not fussed about still sizes and blending ratios, but just want a really solid Irish whiskey, with some proper flavour, you've come to the right place.
​The West Cork Distillery in Southern Ireland is responsible for production, from the first blend to the final bottling. A blend of malt and grain, the whiskey is matured in our intensely charred barrels for 6 months, cut with West Cork spring water to bring down its ABV and then bottled on-site. The resulting woody, caramelised flavour from the barrels makes the Pig a little bourbon-y in taste, easy to drink but distinctively Irish.
The secret to our smooth taste is the finishing in intensely charred barrels. We take traditional American Oak barrels and burn the living hell out of them (in the whiskey world, barrels are typically charred from levels one to four, but ours are scorched to LEVEL FIVE for added depth of flavour)
The lads at the distillery affectionately call these blackened casks 'flaming pigs'… The burnt barrels give our whiskey a deeper, more complex flavour with hints of vanilla, spice, caramel, butterscotch and subtle smoke.
Nose: Hot chocolate and strong tea, with toasted brioche underneath.
Palate: BBQ pineapple and mango develop on the palate. Still quite chocolatey.
Finish: Peaches in syrup, nutmeg and toffee.
700ML
40.%ABV
While Quantities Last
Price Includes All Taxes
Shipping Calculated At Checkout
Both Purchaser And Reciever Must Be Of Legal Drinking Age